Concordances: Options for Distance Learning
Concordances are alphabetical collections of words that occur in a given text (such as the Bible), each entry of which includes a list of citations of all the passages in which that word occurs. There are biblical concordances in almost every language. The most famous English-language concordance is probably James Strong's New Exhaustive Concordance of the Bible, which the Library has in print. Indeed, we have shelves of concordances in the Reference room, in many languages! That doesn't do you much good, though, if you can't easily get to the Library. (Remember, if you're in the Richmond area, you can always make an appointment to come in and research for up to two hours every weekday!) What options do you have for doing concordance work from home? Fortunately, there are plenty of other English-language concordances besides Strong's, including John Kohlenberger's excellent Concise Concordance to the New Revised Standard Version and Concise Concordance to the New American Bible. The Library has both of these available in digital format.
For your biblical studies courses, you'll also need to use Hebrew and Greek concordances. While we have many of these in print form (in addition to bible-study software on the computers in the Reference room), they are much harder to find in digital format. If you've kept your Hebrew-class copy of the Brown-Driver Briggs Hebrew and English Lexicon, you'll find that it can function to some extent as a Hebrew concordance: the dagger symbol (†) that you'll see in front of many (but not all) word entries means that the entry lists every occurrence of that word in the Hebrew Bible. BDB is also linked to Strong's Concordance — it provides the Strong's number for each Hebrew word. As for Greek concordances, the Library does have Moulton's A Concordance to the Greek Testament available as an e-book. The e-book's search function will allow limited searching if you have a Greek keyboard or font installed on your computer (note that entry headings are printed, and thus must be searched, in upper-case Greek letters). However, it is unfortunately quite a slow process to flip through the pages of the e-book to find what you're looking for.
Are there any better options for doing Hebrew and Greek concordance work from your home? Fortunately there is indeed a very good, totally free option: BibleHub.com offers concordance options in English, Hebrew, and Greek! Let's say you want to research the word in Exodus 3:7 that is translated "their cry" (NRSV). Go to BibleHub and use the dropdown menus at the top of the page to select Exodus 3:7. Then click "Interlin" (that is, "Interlinear") in the menu bar that begins with the word "Parallel."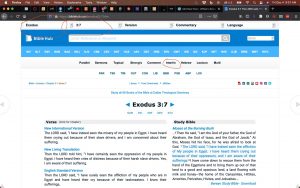 You'll see the verse in Hebrew and English, with a Strong's Concordance number over each English transliteration of the Hebrew word. We're interested in ṣaʿăqātām: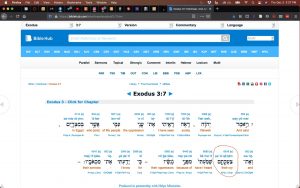 Click on the transliterated word. In the left column you have the Englishman's Concordance, which tells you that this exact word — the suffixed form "their cry" — occurs in Genesis 19:13 and Exodus 3:7. In the right column you'll find the Strong's number for this word, 6818. The Strong's number is associated with the unsuffixed form of the word (ṣaʿăqāh) rather than the exact word in this verse, so the list under the Strong's number includes occurrences of the unsuffixed noun as well as instances where it occurs with the definite article or other prefixes, with different suffixes, in plural form, in construct, etc. The "Additional Entries" list includes other word forms that are based on this word's Hebrew root, ṣʿq, so you can research verbal forms as well.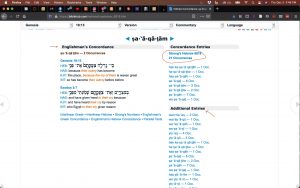 Clicking on the Strong's number will take you to lots more information, including the BDB entry for the noun and the Englishman's Concordance listings for the biblical verses that use this noun in different affixed forms.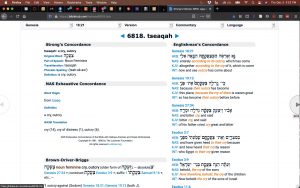 You can do the same kind of thing with Greek words, by clicking on their transliteration.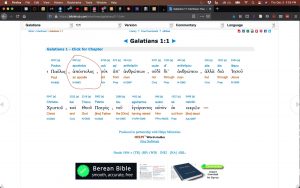 Performing word studies in this way is, admittedly, not as easy as simply opening a book and looking up the information you need. However, it's good to know we have some effective options until we can get back to the normal ways of using the library!