Database Spotlight – Ministry Matters
Ministry Matters™ offers practical and immediate inspiration for preachers, teachers, and worship leaders. With thousands of original articles and blogs, unique book reviews, and weekly worship and preaching helps in the This Sunday area, MinistryMatters.com provides both resources and inspiration for church leaders.
Tens of thousands of pages of full-text research and reference materials are available in the library's premium subscription including excellent reference resources like The New Interpreter's Dictionary of the Bible, the complete The New Interpreter's Bible commentary, the Abingdon Old and New Testament Commentaries as well as devotions, prayers, and sermon starters.
A good place to begin exploring the wealth of reference and worship resources Ministry Matters offers is the Browse section of the Research Library. Here you can click next to resource types to access lists of individual resources.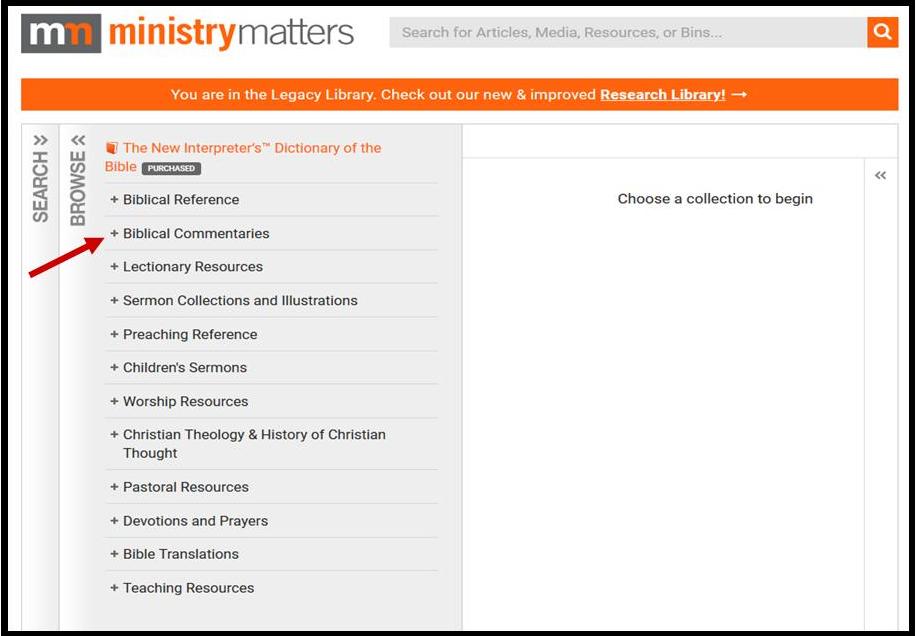 From this page you can choose from any of the Main Menu headings that contain a variety contemporary worship and lectionary resources for diverse audiences. Also, don't miss the Sub-Menu headings located under each of these sections that allow you to focus your search even more.
Ministry Matters is available to current students, faculty and staff of Union Presbyterian Seminary. You can access it on the UPSem Library website by selecting Online Databases from the Library Resources menu. You will need your library barcode and PIN to access this resource off-campus. If you have any questions about access or any of the resources in Ministry Matters please contact Ryan Douthat by email at ryan.douthat@upsem.edu or phone (804) 278-4217.