Database Spotlight – Oxford Biblical Studies Online
Oxford Biblical Studies Online is an excellent resource for the study of the Bible and biblical history. It provides a number of resources that delve into the background, context, and issues related to the Bible including:
Six Bible texts, from the King James version to the Jewish Study Bible
Apocrypha, commentary, and concordances
Over 6000 A-Z articles from Oxford encyclopedias, companions, dictionaries, and handbooks
Over 1000 maps and illustrations
Thematic guides and lesson plans
View Bible texts singularly, or use the side-by-side feature illustrated below to compare a Biblical text with commentary or another translation.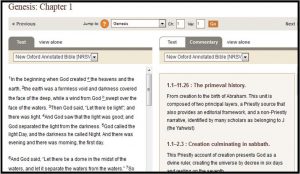 The Tools & Resources menu enables users to explore Biblical themes through background essays and in-depth content within the site, compare specific synoptic passages and subject matter as well as deepen their research by accessing the bibliographies of Bible and commentary texts.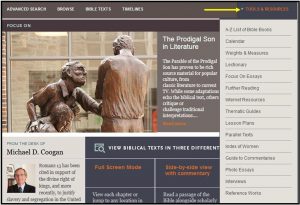 For students, teachers, clergy, and any reader seeking  an up-to-date ecumenical resource. Take a deeper look at Oxford Biblical Studies Online by utilizing the guided tour located under the About menu.
Current students, faculty and staff can find OBSO on the UPSem Library website  by selecting Online Databases from the Library Resources menu. Oxford Biblical Studies Online is also available to our alums in the Alumni Research Portal. You will need your library barcode and PIN for accessing this resource from off-campus.
If you have any questions please contact Ryan Douthat at ryan.douthat@upsem.edu or phone (804) 278-4217.