ATLAS for Alumni
ATLAS FULL-TEXT E-JOURNALS AVAILABLE TO ALUMS
We are happy to provide our alumni/ae with free access to the American Theological Library Association Serials database. ATLAS delivers the full-text portion of the information encompassed in the ATLA Religion Database, including more than 300 of the most prominent journals in the various fields of religious studies : Bible, church history, ethics, theology, pastoral studies such as preaching and counseling, archaeology, philosophy, mission and ecumenism, interfaith studies and world Christianity.
—–> NEW LOGIN INSTRUCTIONS <—–

We have initiated a new system of access to electronic information at the Union Seminary Library.  It's a system called "single sign-on."  It will allow you to access the digital and physical materials we offer at the Library using just your barcode and PIN.  Your barcode is the number printed on your Library card, and your PIN is the first three letters of your last name.  So, this is a good time to make sure you have signed up with Circulation for your free alum account!  For more information about this, please contact Lisa Janes (804-278-4335).
In the past, you have needed a special ATLAS for Alums login to use this program.  You will no longer need to use that login for this purpose.
You can now search ATLAS using a new ATLAS for Alums link on our Online Databases page.  Just use your barcode and PIN if prompted instead of the ATLAS for Alums login.  If you have any questions about this, please contact Ryan Douthat (804-278-4217) or Robin McCall (804-278-4333).
Besides reducing the number of user IDs and passwords needed, this change will also enable us to offer additional electronic resources to alumni and community patrons.  We are still working through some technical and legal details related to those new resources and how patrons will access them, but look forward to making them available over time.
***********************
TUTORIAL AVAILABLE — CLICK HERE.
There is a detailed tutorial offering instructions for the use of the ATLAS database.
OTHER ALUMNI/AE PRIVILEGES :
Alums are also entitled to free borrowing privileges at the Library! If you haven't already become a member, contact our Circulation Desk now : Lisa Janes, Circulation Supervisor, 804.278.4335,  ljanes@upsem.edu
***********************
For Users of The Text This Week :
If you use TextWeek to prepare lectionary passages, you will have direct access to the ATLAS articles that they recommend. When you choose an article to read, click on the "EBSCO ATLASerials Religion Collection" link.  You will see this login screen :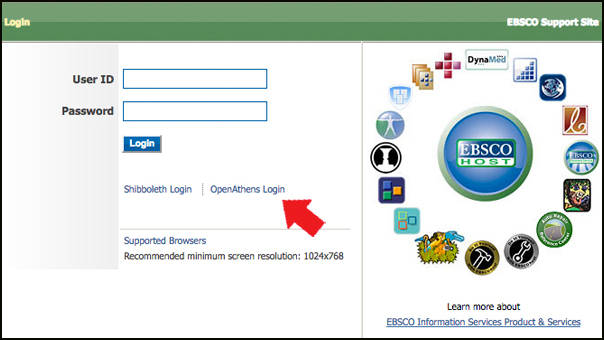 Notice the very small print that says OpenAthens Login.  Click on that.  You'll get another login screen :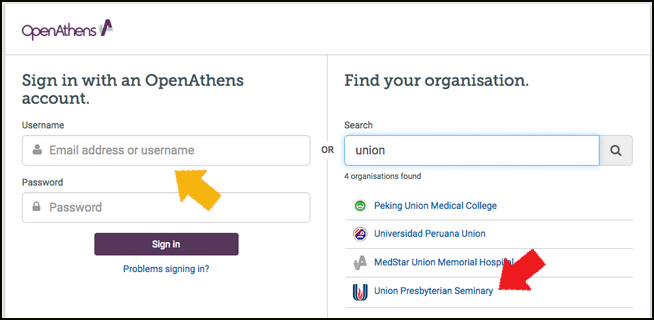 On this screen, there is a box on the right labelled Find your organisation.  If you start typing "Union Presbyterian Seminary" into that box, it will offer you a choice with our name and logo (red arrow above).  Click on that to choose us as your access provider.  Then, you will be able to enter your own barcode and PIN in the sign-in area (yellow arrow above).  Your chosen article should open as a PDF, which you can then print, save or read online.
This seems like a lot of steps, but at least once you have done this, you should stay logged in for the rest of your session and be able to open  any number of articles without going through that process again.
Please feel free to contact Ryan Douthat with any problems or questions.