Posted on October 9, 2020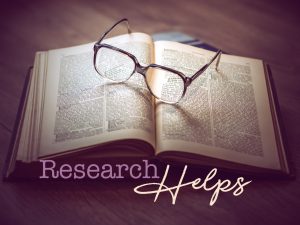 The ATLA Religion and ATLAS Plus databases are some of the Library's richest resources for finding research materials in the fields of biblical studies, theology, church history, pastoral care, and other areas related to religion. A basic keyword search from the library's catalog page, if you select the "Database Results" tab at the top of the left column, will yield results from these and other databases. However, ATLA's own interface provides some powerful search tools that the catalog page does not. You can access these databases from the Library's homepage by going to the "Library Resources" tab at the top of the page, selecting "Online Databases," and clicking on "ATLA-RDB and ATLAS Plus index & e-journals."
You can, of course, search the database by keyword, simply by putting your search terms into the search bar. You can also use the drop-down menu next to the search bar to specify whether you want to search for your term in the titles of articles, the abstract, the author's name, or several other categories. The drop-down menu also lets you search by the year in which a particular church document was published, or search by scripture citation. The ability to search by scripture citation is perhaps the best reason to search from within the database itself rather than from the library's catalog page. Sometimes simply searching scripture citations from the drop-down menu doesn't bring up the information you need, though. The database doesn't always recognize what you're asking it for. Fortunately, there are multiple ways to search by scripture reference in ATLA!
If you'd like to search by a specific verse, you can click on the word "Scriptures" at the very top left side of the page. Scroll down or page over until you find the book of the Bible you need, then click "Expand" next to the book name. Do the same for the chapter of the book, and then the verse. If I search for Leviticus⇒Chapter 10⇒Verse 10, the search will retrieve articles tagged with that specific verse, but also articles tagged with scripture references within which that verse occurs (ex., Lev 10 or Lev 1-16).

If you'd like to search scripture references a little more broadly than by specific verse, you can also use the Indexes search feature. Let's say you'd like to find articles on the Lord's Prayer in Matthew 6:9-13. In the same menu bar with the "Scriptures" option, highlight "More" at the right-side end of the list, and select "Indexes." The "Browse an Index" drop-down menu will allow you to search by "Bible Citation." (You can also search in this way for references from the Babylonian Talmud, the Mishnah, the Quran, and the Book of Mormon.) Browsing for "Matthew 6" will bring up a list of scripture citations that exist within the database, and you can tick each box that is relevant to your needs. (It's not a bad idea to move backward as well as forward — for instance, the page before the one for Matthew 6 includes a listing for "Matthew 5:43-6:18," which would also include the Lord's Prayer.) In this way, you can ensure that you're finding as much material on your scripture reference as possible.
You can learn even more about how to use the ATLA Religion and ATLAS Plus databases effectively by visiting our LibGuide: Using ATLA Religion Database & ATLA Plus https://upsem.libguides.com/atla/home.