Searching by Scripture reference
Using the Scripture tab
On the Advanced Search screen, you will see a set of tabs along the top left edge of the screen.  First, click on the tab marked Scriptures.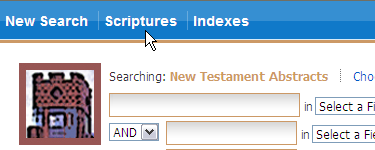 On the lower part of the screen, under Scriptures, you will see a long list of passages in Acts, which are unfortunately NOT in canonical order, but in strictly numerical order, so that Acts 10 comes after Acts 1, and so on.  Type in the passage you are looking for, and click on the Browse button.  (You might think you can defeat the sequencing problem by choosing the "Relevancy Ranked" option, but no … experiment with that feature and you will soon see that there are many problems with the way it operates.)

You receive a list of articles in this data store that concentrate upon the passage you are looking for.  Of course, scholars writing their articles or essays are free to define the passage as they wish.  Some writers define the pericope as Acts 2:1-4, while others have chosen to discuss Acts 2:3, or Acts 2:3-4, or even a longer passage such as Acts 2:1-41.  Clearly, several of these choices do include the passage you want.
Note that to be really thorough, you need to scroll way down the list to Acts 2:3.  This is a regrettable shortcoming of automatic indexing that the Hierarchical Scripture Authority is meant to overcome.  But this program lacks the hierarchical feature.
Click in the little box next to each passage you wish to include in your search.  You can select as many as you like.  Once you have selected them, click on Search.

The program will bundle together the passages you have chosen into the Search box and display them near the top of the screen.  It will also, at the same time, enact your search.  You will receive a set of results including all of the articles you have chosen.
PLEASE NOTE : The Religion and Philosophy Collection (RPC) is not equipped with Scripture reference or Scripture browse searching.